Lost No More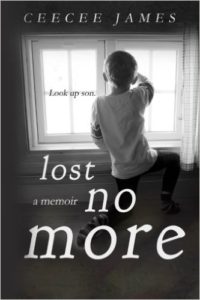 Product Description
Jim grew up with fear. Fear of his abusive, alcoholic father… but an even greater fear that he would follow in his father's footsteps. That's what his mother always told him – over and over again.
Now Jim has met the girl of his dreams and he finally dares to think of a new life. But can hope save him? Or does his worst nightmare happen,despite everything he does to fight against it.
Based on a True Story, Lost No More is the second book of the Ghost No More Series, although it can be read as a stand alone too.
---
Editorial Reviews
About the Author
Hi There! Just want to send out a big thank you to all of my readers! I love to write, paint with watercolors, and eat chocolate. Not necessarily all at the same time. I love to do pranks too, usually just on my poor husband who luckily puts up with me and lets me think I'm clever. One of my favorite pranks was sewing his work t-shirt neck-hole shut on April Fool's (I made him lasagna that night to make up for it.) He does a few on me- his last one was hiding an old helium birthday balloon under the covers at night. I had just finished a spooky story, and as the last one awake, I checked the doors and turned off the lights. As I climbed into bed this apparition rose out of the covers, and I screamed….until I heard him laugh. I still owe him for that one….. 😉 Again, thank you, and have a great day!
---
Customer Reviews
Most helpful customer reviews
18 of 18 people found the following review helpful.

Finding Hope
By Visceral Love
I don't read books about child abuse; All too often, I find them one-note depictions of despair and angst-fests with no real character development or depth. So no one is more surprised than me to be writing this five-star review.
I heard about Lost No More when Ceecee needed beta readers, and at first I was skeptical, but word by word, chapter by chapter the story won me over.
The story begins slowly, and from the very beginning of Jim's childhood, we get to watch him grow up from young boy, to rebellious teenager, to eventually see him have kids of his own.
The story also has a phenomenal sense of place and time, and especially the earlier chapters evoke books like A River Runs Through It and movies like Stand by Me, some lost slice of life uncovered.
The relationship between him and his father plays a constant role, and while there are scenes of abuse, they always feel drawn in vivid emotionally wrought color, never reduced to black & white good and evil.
By the end I found myself almost crying about the resolution Jim was able to achieve with God & with his father — and I don't even believe in God! This was a great human story about what it means to love, to be hurt, to lose, to never have, and eventually, beyond all the other trials tribulations to find hope.
-Disclaimer I was a Beta-Reader for this Novel-
9 of 9 people found the following review helpful.

The narrative style reminded me of the old series The Wonder Years and I like how it was told from the perspective of a …
By Docko
I found this to be a very enjoyable book to read. As heartbreaking as much of it was, it had just enough comedy to balance it out and make it enjoyable to read. The narrative style reminded me of the old series The Wonder Years and I like how it was told from the perspective of a child even tho he has long since become a man. I found myself often just cracking up at the things little boys come up with to entertain themselves and it was fun to be taken back to the era I grew up in. I don't want to give any spoilers but I have to say that I was really impressed with the way this emotional journey evolved over Jimmy's life and that he was able to make peace with his conflicting feelings. A very well written book and worth the read.
7 of 7 people found the following review helpful.

I loved how the author enabled me to "grow up" with …
By Leslie C. Reynolds
This was so moving. I loved how the author enabled me to "grow up" with this boy. I saw through the eyes of a 5 year old on up to adulthood the shattering firsthand experience of love and torment growing up with a dad who was imprisoned by his alcoholism. A perfect mix of tenderness and humor to offset the disappointment and despair that goes along with being brought into this world by fallen primary caregivers. Jim's love for and eventual forgiveness of his dad outweighed the effects of his dad's addiction. Thanks to the author for presenting the details so completely and proving once again, that Love truly can conquer all.